Tuesday, 14 January 2014 14:00
Our very own Dr. Adam Jahnke has posted a new review of Ziad Doueiri's The Attack on Blu-ray Disc. The title is now available from Cohen Media Group. Sounds like an interesting film, so do check it out.
In announcement news today, Universal has set Continuum: Season Two for BD and DVD release on 3/25. Extras will include commentary with the cast and crew on most episodes and the Continuum: Behind the Scenes featurette. They also have Psych: The Complete Eighth Season coming on DVD only on 4/1, with podcasts, extended scenes and more. [Read on here…]
Wednesday, 08 January 2014 15:20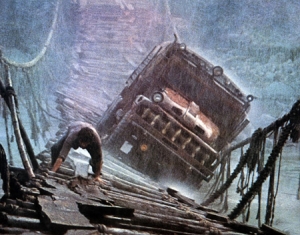 This is a quick post, but a good one.
Does anyone want to get your first look at Warner's hot-off-the-presses cover artwork for William Friedkin's Sorcerer Blu-ray (due 4/22)?
Well here it is... [Read on here...]
Friday, 13 September 2013 12:07
We've got a quick bit of announcement news for you today...
Sony has set Grown Ups 2 for release on Blu-ray Disc and DVD on 11/5 (SRP $40.99 and $30.99). Extras will include deleted scenes and 4 featurettes (Look Who Stopped By, Set Construction, Mr. Spade's Wild Ride and Shaq and Dante: Police Force).
Time Life and StarVista have announced a 6-disc The Dean Martin Celebrity Roast: Collector's Edition for DVD release on 10/8 (SRP $59.95). From the press release the set "includes 12 complete and unedited Celebrity Roasts, featuring Bob Hope, Johnny Carson, Jimmy Stewart, Sammy Davis Jr., Jack Benny, Lucille Ball, Dean Martin, Kirk Douglas, Michael Landon, Jackie Gleason, Don Rickles and Joan Collins. Appearing as roasters, throwing zingers at the men and women of the hour are: John Wayne, Dom DeLuise, Rich Little, Muhammad Ali, George Burns, Phyllis Diller, Art Carney, Bette Davis, Florence Henderson, Bob Newhart, Don Rickles, Milton Berle, Jonathan Winters and many others. Adding to the mirth and merriment of this set are over two hours of specially-produced bonus features, featurettes and interviews, as well as rare Dean Martin TV specials and home movies!" [Read on here...]