View from the Cheap Seats
Sometimes it's wonderful to find someone who hails from the same planet as you. I go to film festivals and am always pleased to find intelligent, well dressed and conversant people on subjects close to my heart. These folks, somewhat like yours truly, are professionals, go to work every day, raise families and live contemplative and productive lives. And, well, like a fool such as I, love, as Pauline Kael once said, "when the lights go down."
I've been extremely lucky – I've had mentors and friends who have done their dead level best to educate me in the ways of the world while also sharing their deep and abiding love for everything silver and screen. [Read on here...]
---
A little preface – I started writing my little nickel and dime pieces for the holidays not before December 25 but after. And I'll tell you why. How many of us receive as presents gift cards – they're easily purchased and delivered. However, many have time limits and they're incredibly easy to lose. Come on, you've lost a few, haven't you?
So, I write up these fabulous video gifts because you have gift money to spend. And please do so.
When I was in the throes of graduation from Purcell Oklahoma High School about 40 years ago, we Seniors observed a tradition that I'm sure in some form or fashion was copied throughout the country – we had to complete a form that listed our personal "likes." You know, favorite song, favorite type food, favorite movie, etc. [Read on here...]
---

Since the earliest days of American television, some programs thereon have become phenoms by lancing through public consciousness at the right time and place in popular culture.
You know the list – The Texaco Star Theater, starring Milton Berle, was the first show to become "must see." The same moniker could also be used for I Love Lucy or The Honeymooners or The Tonight Show with Johnny Carson or even Saturday Night Live.
While these programs and a few shows like them, say All in the Family, breathed rarefied air, none caused a change in the public stratosphere like a comedy sketch show which started airing on NBC Monday nights in 1967, opposite The Lucy Show and Gunsmoke, Rowan and Martin's Laugh In.
Now, to celebrate Laugh-In's 50th Anniversary, Time Life Home Video has released Rowan & Martin's Laugh-In: The Complete Series – including every episode from all six seasons along with exclusive new bonus features and a free DVD. That's 140 episodes on 38 DVDs. [Read on here...]
---
I've figured out what's wrong with movies.
This thesis prevailed on me as I went to see the 3-D Imax version of a new picture called The Great Wall. This picture opened to dismal reviews, but the previews had made it look righteous and the effects, I knew, would be fun, and they were and the whole experience wasn't bad.
And on the way out, I was thinking of all these feckless movie reviewers who get published and why they would trash this movie. I thought to myself: "Why were they so hard on this movie? It's just a fun "B" picture?"
And then I figured it out. They all are. 90% of what we see in the theaters are "B" pictures with "A" budgets.
Let's discuss... [Read on here...]
---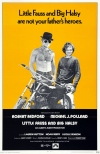 I've about decided that a full book could be written regarding just about every produced movie – Lord knows there's always enough behind the scenes drama to fill a daytime soap. But I love it. Who was supposed to be in what? Who wrote the script? That stuff. The success of X movie produced Y.
OLIVE FILMS
And here's a story about a Robert Redford motorcycle picture called Little Fauss and Big Halsey, recently released for the first time on home video by Olive Films.
Al Ruddy came to Hollywood in the early 60s and as a young pup sold what has become a classic sitcom called Hogan's Heroes. Ruddy and Charles Eastman wrote the script for Little Fauss and sold it to Paramount with a then hot director named Sidney Furie (who was bankable because of The Ipcress File and The Naked Runner). Redford was brought on board in the process as was my friend and lifelong Ruddy partner Gray Frederickson. [Read on here...]
---