We're starting the day off with a pair of new Blu-ray reviews from our own Jim Hemphill, who takes a look at Ivan Passer's Cutter's Way (1981) and Fred Zinnemann's The Member of the Wedding (1952), both now available on BD from Twilight Time. Enjoy!
The big announcement news today is that Universal Studios Home Entertainment has just officially set the Blu-ray, Blu-ray 3D, DVD, and 4K Ultra HD Blu-ray release of Warcraft for 9/27, with the Digital HD release expected on 9/13. [Read on here…]
---
---

---
All right, we've got a bunch of interesting announcement news and other bits of Blu-ray-related information for you today, so let's get right to it…
FUNimation has announced that they've gotten the rights to release the new Shin Godzilla film here in the States, both in theaters and on disc. Watch for more news on that soon. The company has also announced the forthcoming Blu-ray release of Ergo Proxy for the first time in the U.S. and Canada, as well as Attack on Titan live action movie releases on Blu-ray and DVD – Part One on 10/6 and Part Two TBA. They're also releasing a Seraph of the End: Vampire Reign – Collector's Edition and Season One, Part Two on Blu-ray, DVD, and Digital HD on 9/27. There's still no word on Speed Racer/Mach GoGoGo, but we know they're planned for release on Blu-ray by FUNimation in 2017, which is the series' 50th anniversary. [Read on here…]
---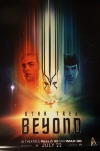 All right, it's been a crazy few days here at The Bits, so I'm just going to post a quick update today.
First up, I was down at San Diego Comic-Con last night for the premiere of Star Trek Beyond. Paramount put on a great event, and I really quite liked the film. It's definitely better than Star Trek Into Darkness, and it's very different in tone to either of the first two films. Think of it this way: It's the biggest, most action-filled episode of The Original Series you've ever seen, for all the good and bad that implies. The key thing is that it's fun. It has a decent (and novel) sci-fi concept for a change, the action is imaginative, all of the cast gets involved, and there are a ton of great character moments. Karl Urban's Bones gets his biggest part yet and he really makes the most of it. [Read on here…]
---