Quick update on yesterday's news: A number of readers have asked why Schindler's List and Munich weren't included in Universal's newly announced The Steven Spielberg Director's Collection Blu-ray box set. So we contacted the studio and got this statement:
"The Steven Spielberg Collection showcases the Director's journey at Universal making some of the biggest blockbusters in film history that have thrilled, entertained and delighted audiences around the world. Due to the historical significance and deeply serious nature of the films, Schindler's List and Munich were not included so as to not understate their unique impact." [Read on here...]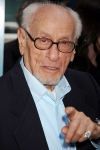 [Editor's Note: After the recent passing of Eli Wallach, I was surprised to learn that Bits contributor Joe Marchese was an acquaintance of the actor, having worked with him on the stage.
Joe wanted to write a personal remembrance of Wallach for The Bits and we're very happy to share that with all of you here now.]

All right, some quick news updates today...
Sony Pictures Home Entertainment has set the CG-animated film Appleseed Alpha for Blu-ray, DVD and digital release on 7/22. The discs includes audio commentary with the filmmakers and an 11-part "making of" documentary.
PBS Distribution is releasing the British sitcom Vicious, starring Sir Ian McKellen and Derek Jacobi, on DVD on 7/8. [Read on here…]