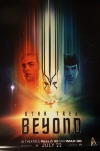 All right, it's been a crazy few days here at The Bits, so I'm just going to post a quick update today.
First up, I was down at San Diego Comic-Con last night for the premiere of Star Trek Beyond. Paramount put on a great event, and I really quite liked the film. It's definitely better than Star Trek Into Darkness, and it's very different in tone to either of the first two films. Think of it this way: It's the biggest, most action-filled episode of The Original Series you've ever seen, for all the good and bad that implies. The key thing is that it's fun. It has a decent (and novel) sci-fi concept for a change, the action is imaginative, all of the cast gets involved, and there are a ton of great character moments. Karl Urban's Bones gets his biggest part yet and he really makes the most of it. [Read on here…]
---
In announcement news today, Warner Home Video has set Shane Black's The Nice Guys for Blu-ray Combo and DVD release on 8/23, with the Digital HD release due 8/9. Extras will include a pair of featurettes (Always Bet on Black and Worst. Detectives. Ever.: Making The Nice Guys).
Universal has set Free State of Jones for Blu-ray, DVD, and On-Demand release on 9/20, with a Digital HD release due on 9/6. The only extras will be The History of Jones County featurette. [Read on here…]
---
---
All right, we've got a rare Saturday update for you, as there's some major news to let you all know about since yesterday's post…
First up, Criterion has announced their October slate of Blu-ray releases, which is set to include the Trilogía de Guillermo del Toro set (Cronos, The Devil's Backbone, and Pan's Labyrinth) and Pan's Labyrinth separately (Cat #838 - Blu-ray and DVD) on 10/11, Richard Linklater's Boyhood (Cat #839 - Blu-ray and DVD) and Robert Altman's Short Cuts (Cat #265 - Blu-ray and DVD) on 10/18, and Ermanno Olmi's The Tree of Wooden Clogs (Cat #840 - Blu-ray and DVD) and Luis García Berlanga's The Executioner (Cat #841 - Blu-ray and DVD) on 10/25. Note that Criterion is also working on a Blu-ray box set of Linklater's "Before" Trilogy (Before Sunrise, Before Sunset, and Before Midnight) for release at a later date. [Read on here…]
---

All right, there's not much in the way of announcement news today, but we do have a couple things to share with you.
First, there's a brand new official behind-the-scenes video and poster for Rogue One: A Star Wars Story that were shared earlier today at Star Wars Celebration in London. You can see the poster at the left there.
And you can watch the video via YouTube here (be sure to watch it in 1080p)… [Read on here…]
---