The cast of Superman also featured the above-the-title billing of Marlon Brando as Superman's biological father Jor-El and Gene Hackman as Lex Luthor. The memorable supporting cast included Margot Kidder as Lois Lane, Ned Beatty as Otis, Jackie Cooper as Perry White, Glenn Ford as Pa Kent, Phyllis Thaxter as Ma Kent, Trevor Howard as 1st Elder, Vallerie Perrine as Miss Teschmacher, Maria Schell as Vond-Ah, Susannah York as Superman's biological mother Lara, Jeff East as Young Clark Kent, Marc McClure as Jimmy Olsen, and Jack O'Halloran, Terrence Stamp and Sarah Douglas as the Phantom Zone villains.
Donner's (The Omen, Lethal Weapon) popular and acclaimed cinematic take on the Man of Steel premiered 40 years ago this month, and for the occasion The Bits features a compilation of statistics and box office data that places the movie's performance in context; passages from vintage film reviews; a reference/historical listing of the movie's 70mm showcase presentations; and, finally, an interview segment with a group of film historians and Superman authorities who reflect on the film's impact, influence, and legacy.
This new 40th anniversary article is an extension of our 35th anniversary coverage.
SUPERMAN NUMBER$
1 = Number of Academy Awards (Special Achievement in Visual Effects)
1 = Rank among top-earning films during opening weekend
1 = Rank among top-earning films directed by Richard Donner (adjusted for inflation)
1 = Rank among top-earning films of 1979 (calendar year)
2 = Rank among top-earning films of 1978 (retroactive / legacy)
2 = Rank among Warner Bros.' all-time top-earning movies at close of first run
3 = Number of Academy Award nominations
6 = Peak all-time box-office chart position
6 = Rank among top-earning movies of the 1970s (earnings from 1/1/70 - 12/31/79)
11 = Number of years film industry's top-earning superhero/comic book movie
12 = Number of months between theatrical release and home video release
25 = Number of weeks of longest-running engagement (in a single-screen theater)
30 = Number of weeks of longest-running engagement (in a multiplex)
45 = Number of weeks film was in first-run release
73 = Rank on current list of all-time top-earning films (adjusted for inflation)
508 = Number of theaters showing the movie during opening weekend
$14,695 = Opening weekend per-screen-average
$7.5 million = Opening weekend box-office gross
$55.0 million = Production cost* (estimated, and includes some overlapping sequel expenses)
$82.5 million = Box-office rental (% of gross paid to distributor)
$134.5 million = Box-office gross
$166.0 million = Box-office gross (international)
$212.6 million = Production cost (adjusted for inflation)
$300.5 million = Box-office gross (domestic + international)
$519.7 million = Box-office gross (adjusted for inflation)
$576.3 million = Box-office gross (international, adjusted for inflation)
$1.1 billion = Box-office gross (worldwide, adjusted for inflation)
*established new industry record
A SAMPLING OF MOVIE REVIEWER QUOTES
"Superman doesn't transcend its origins, as Star Wars did, but it never means to. For me it's as if somebody had constructed a building as tall as the World Trade Center in the color and shape of a carrot. Rabbits might admire it. They might even write learned critiques about it and find it both an inspiration and a reward, while the rest of us would see nothing but an alarmingly large, imitation carrot." — Vincent Canby, The New York Times
"It has been the most heavily heralded and promoted film of the year, yet also the film awaited with the widest genuine curiosity and eagerness. But it is, I regret to say, a very large letdown. Superman has lead feet. No motion picture costing $25, $50 or $75 million can be totally boring. Superman is certainly worth seeing once, to satisfy that yearning curiosity and to experience the pleasures it does offer. But the hopes that Superman might be the next Star Wars or Close Encounters, to be seen again and again, are dashed after the undeniably brilliant first quarter-hour, the Krypton sequence. In a dismaying sense, Superman is like an ice show. Once you've established that people can get about on steel runners, there's not much for them to do except keep doing it." — Charles Champlin, Los Angeles Times
"A marvel of stupendous film-making. This one will outgross them all." — Rex Reed, New York Daily News
"Sloppy, yet fun, with most of the magic being supplied by a love story rather than by special effects—that's the bottom line on the new $40 million Superman. The film's much-talked-about flying sequences are neither as embarrassing as the gossipmongers would have us believe, nor are they as exciting as we had hoped. The film is a delightful mess. Good performances. Sloppy editing. Cheap nonflying special effects. Funny dialog. In sum, Superman is the kind of picture critics tear apart, but still say, 'You ought to see it.' I had a similar reaction to Grease." — Gene Siskel, Chicago Tribune
"Superman soars for first hour, but there's another to go." — John Hartl, The Seattle Times
"You'll find it hard to resist the charms of this visually stunning superspectacle, which makes an awesome leap from comic strip to the screen." — Stanley Eichelbaum, San Francisco Examiner
"After considerable fanfare, Superman has finally arrived. First, the good news. The special effects are splendid. Another piece of good news is that Chris Reeve is marvelous as Superman and super-marvelous as Clark Kent. Now, for the bad news—and bad news it is. Instead of giving Superman a suitable adversary, along the lines of a Darth Vader, the villainous Lex Luthor is right out of the campy Batman series. The minute we see Otis, Luthor's assistant skipping along the street, already a sight gag in his harmless roly-poliness, we know the movie has gone seriously off-track. When fantasy is forced to mix with camp, it comes off a poor second." — Eleanor Ringel, The Atlanta Constitution
"A mass entertainment of high class and energy… a major feat in filmmaking." — Jack Kroll, Newsweek
"Magnify James Bond's extraordinary physical powers while curbing his sex drive and you have the essence of Superman, a wonderful, chuckling, preposterously exciting fantasy guaranteed to challenge world boxoffice records this time round, and perhaps with sequels to come." — James Harwood, Variety
"Giving Superman a family history at such great length is a fatal flaw in the film. Superman's history is far less interesting than his adulthood. By the time we get around to seeing Superman perform the way he's supposed to, we're a little bored with him. We just wish he'd fly away." — Bruce McCabe, The Boston Globe
"I loved it. I think you will, too, because it marks the return of the old-fashioned, cheer-rousing participatory movie experience. I mean, really. At the screening I attended, young and old alike hooted with delight." — Wayne Harada, The Honolulu Advertiser
"Superman is a pure delight, a wondrous combination of all the old-fashioned things we never really get tired of: adventure and romance, heroes and villains, earthshaking special effects, and—you know what else? Wit. That surprised me more than anything: That this big-budget epic, which was half a decade making its way to the screen, would turn out to have an intelligent sense of humor about itself." — Roger Ebert, Chicago Sun-Times
"It's a bird, it's a plane, it's a film that's fun for everyone. Superman will be a smash. Pure fun, fancy and adventure." — Gerald Clarke, Time
"The names above the marquee are mostly in for a few lines and a handsome paycheck, but in the case of Brando and Hackman, the paycheck is so large it's ridiculous. The credit belongs to the army of technicians. John Barry, the production designer of Star Wars, does exemplary work in realizing the icy, crystalline planet of Krypton; Stuart Baird, who worked on the film that made Donner's reputation, The Omen, contributes the astute editing and John Williams conducts the London Symphony Orchestra." — Desmond Ryan, The Philadelphia Inquirer
"Despite a lull here and a lapse there, this superproduction turns out to be prodigiously inventive and enjoyable, doubly blessed by sophisticated illusionists behind the cameras and a brilliant new stellar personality in front of the cameras—Christopher Reeve, a young actor at once handsome and astute enough to rationalize the preposterous fancy of a comic-book superhero in the flesh." — Gary Arnold, The Washington Post
"Since Superman has been so widely publicized, most people will first wonder what's wrong with it. It suffers from a collision of comic styles, jumping from sophisticated satire to broad parody, and in the closing sequences, the various screenwriters seem to have confused Superman with Batman. Furthermore, the opening scenes are too measured; starting with the destruction of Krypton and Superman's adoption by Ma and Pa Kent, it takes a long time to get to the offices of The Daily Planet. And there is a deliberate lack of completeness about the film, whetting our appetites for the sequel." — Philip Wuntch, The Dallas Morning News
"Superman runs for more than two-and-a-half hours, and if it is the hit at the box office that it will have to be to recoup its staggering cost, the 26-year-old ex-soap opera star who plays Superman is going to be a certified Robert Redfordesque heartthrob." — Tom Green, The (Cleveland) Plain Dealer
"Those who come wanting to believe, ready for magic, will be thoroughly delighted at every turn, right from the moment the opening titles zoom Star Wars-like off into space against the sound of heroic, horn-dominated music, again Star Wars-like, and why not? The same man, John Williams, composed the scores for both movies, and here, as in every film he touches, his contribution is inestimable. The technical wizards send these movies aloft. Williams makes them soar." — Susan Stark, Detroit Free Press
THE 70MM ENGAGEMENTS
The following section of this retrospective features a historical/reference listing of the locales that showcased a 70mm presentation. (For a state-by-state listing of all of the movie's 500+ opening-weekend bookings, please refer to our 35th anniversary article Still Believing a Man Can Fly: Remembering "Superman: The Movie On Its 35th Anniversary.)
Arguably, the best theaters in which to experience Superman were those showcasing a 70mm print which featured a high-quality Six-Track Dolby Stereo audio experience and were generally shown in larger theaters and with superior quality control. Superman was among only nine first-run films released in 1978 with 70mm prints for selected engagements.
Superman was released in North America on December 15th, 1978. The film's world premiere, with President Carter in attendance, was held December 10th (in 35mm) at the Kennedy Center in Washington, DC. As well, numerous benefit screenings and regional premieres took place between the 11th and 14th (some in 70mm).
The duration of these engagements (measured in weeks) is included in parenthesis following the theater name. The 70mm bookings of Superman were among the film's longest-playing and highest-grossing.
It should be noted that the majority of the 70mm print order for Superman was delivered late by the lab due in part to the late completion of the production work. As a result, many of the engagements cited below actually commenced with a 35mm print and switched to 70mm upon delivery of the large-format print.
Also note that some of the presentations included in this listing might have been presented in 35mm during the latter week(s) of engagement due to print damage and the distributor's unwillingness to supply a 70mm replacement print or because the booking was moved to a smaller, non-70mm-equipped auditorium in a multiplex. Any 35mm portion of an engagement has been included in its duration figure.
And, finally, it should be noted that, as a test, a select few of these 70mm presentations were played back in a special split-surround format. The split surround format, in terms of channel layout, was the precursor to the modern-day 5.1 format. These presentations were considered a test and thus the split-surround component of the presentation was not promoted. Decades later, however, the lack of documentation and promotion has prevented historians and interested parties from determining precisely which venues presented Superman in the split-surround format. (The split-surround decoding equipment had not yet been made available; a prototype of the SA-5 surround adapter for use with the Dolby CP100 was manufactured for the venues in which the test presentations were held. The split-surround format was officially introduced in 1979 with Apocalypse Now.)
The North American first-run 70mm presentations of Superman….
CALIFORNIA
Costa Mesa — Mann's South Coast Plaza Triplex (27) [70mm from Week 3]
Los Angeles (Hollywood) — Mann's Chinese (22)
Los Angeles (Westwood Village) — Mann's National (17)
Los Angeles (Woodland Hills) — UA's Warner Center 6-plex (26) [70mm from Week 3]
San Diego — Mann's Cinema 21 (7) [70mm from Week 2]
San Francisco — Plitt's Northpoint (23) [70mm from Week 2]
San Jose — Mann's Town & Country (25) [70mm from Week 7]
COLORADO
Denver — Mann's Century 21 (20+) [70mm from Week 2]
DISTRICT OF COLUMBIA
Washington — Circle's Embassy Circle (19) [opened 1-26-79]
ILLINOIS
Belleville — BAC's Cinema (13) [70mm from Week 2]
Calumet City — Plitt's River Oaks 4-plex (21) [70mm from Week 11]
Chicago — Plitt's Esquire (12) [70mm from Week 3]
Northbrook — Center's Edens Twin (16) [70mm from Week 3]
Oak Brook — Plitt's Oakbrook (21) [70mm from Week 3]
Schaumburg — Plitt's Woodfield 4-plex (20) [70mm from Week 3]
KENTUCKY
Louisville — Redstone's Showcase 8-plex (22) [70mm from Week 12]
MASSACHUSETTS
Boston — Sack's Cinema 57 Twin (13) [70mm from Week 4]
MICHIGAN
Livonia — NGT's Mai Kai (23) [70mm from Week 3]
Southfield — NGT's Americana 4-plex (23) [70mm from Week 3]
MINNESOTA
Bloomington — GCC's Southtown (23) [70mm from Week 3]
Brooklyn Center — Plitt's Brookdale (23) [70mm from Week 3]
NEW YORK
New York — Cinema 5's Murray Hill (16)
New York — Loews' Astor Plaza (16)
New York — Loews' Orpheum Twin (17)
OREGON
Beaverton — LT's Westgate Triplex (23) [70mm from Week 2]
Portland — LT's Eastgate Triplex (23) [70mm from Week 2]
TEXAS
Dallas — GCC's Northpark West Twin (21) [70mm from Week 6]
THE Q&A
Jim Bowers is the editor of CapedWonder.com and author of the forthcoming Superman: The Richard Donner Years.
Kevin Burns is the director and executive producer of Look, Up in the Sky! The Amazing Story of Superman (2006).
Mike Matessino is a Soundtrack Producer and Film Music Preservationist and was involved with the Superman soundtrack CDs released in 2000 and 2008.
Bruce Scivally is the author of Superman on Film, Television, Radio & Broadway (McFarland, 2006).
Larry Tye is the author of Superman: The High-Flying History of America's Most Enduring Hero (Random House, 2012).
The interviews were conducted separately and have been edited into a "roundtable" conversation format. (This Q&A includes a mixture of new and repurposed material from our 35th anniversary coverage.)
Michael Coate (The Digital Bits): How do you think Superman: The Movie should be remembered and/or celebrated on its 40th anniversary?
Jim Bowers: Superman: The Movie is, and always shall be, remembered and celebrated as a Christmas season classic movie experience, with "experience" being the definitive word. Although I often watch the movie in its entirety throughout each year, I also make a point to enjoy it during the holidays alongside The Grinch Who Stole Christmas, A Charlie Brown Christmas, Rudolph the Red-Nosed Reindeer, The Snowman (1982), and The Nine Lives of Christmas. The best way for me to celebrate this movie is through the way I live my life. The movie guides and inspires me to take responsibility for myself, express sincere gratitude and kindness, acknowledge others, embrace differences, offer love and a helping hand, encourage others to help themselves, repel negativity, and believe in dreams.
Kevin Burns: Up until that time no one would take a comic book movie seriously. The legacy is that it was the first film that said, yes, this can be worthy of an epic motion picture treatment.
Mike Matessino: Superman remains a great, groundbreaking movie that is highly entertaining and beautifully made. It's a true classic. This anniversary also aligns with the 80th anniversary of the character and [we recently celebrated] the centennial of Superman's creators, Jerry Siegel and Joe Shuster. The 1978 movie falls right in the middle of the character's history and crystallizes, if you'll pardon the pun, all of his mythology.
Bruce Scivally: It seems that when you go to the multiplexes now, half the movies in theaters, and certainly the highest-grossers, are films based on comic books. That is a phenomenon that began with Richard Donner's Superman. Before 1978, there was a general consensus that — with movie serials having died out in the 1950s — the place for superheroes was television. This was cemented by the success of the Superman TV series in the 1950s, and Batman in the late 1960s. In the 1970s, Wonder Woman, Spider-Man and The Hulk came to prime-time TV, and there were TV-movie pilots for other heroes, like Captain America and Doctor Strange. Plus, a live-action Captain Marvel had a successful run on Saturday mornings. So when Ilya Salkind proposed the idea of Superman as a big-budget, star-studded feature film, it was — at the time — a very radical idea. And I truly believe that if Superman had failed at the box-office, we wouldn't have all the Marvel and DC Comics-inspired films flooding theaters now.
Larry Tye: It was the best of the Superman movies in everything from giving us a great storyline, a believable Superman, and a film that is true to Superman's root. All that is especially worth celebrating in the wake of Warner Bros.' latest Superman movie[s], which didn't hit any of those high notes.
Coate: Can you recall your reaction to the first time you saw the 1978 Superman movie?
Bowers: I first experienced Superman: The Movie on the silver screen in Tacoma, Washington, in December 1978 as a 17-year-old high school senior. I clearly remember reading snippets about the movie and first seeing the trailers and TV spots. I was immediately reminded of my childhood years watching George Reeves' escapades in syndication on my tiny 13-inch B&W TV. The anticipation for this movie was almost more than I could handle; I was already bursting with excitement. My heart was pounding as I walked into the theater lobby with my then 6-year-old brother, Clarke, and gazed upon the colorful décor of Superman standees, posters, lobby cards, and a giant Superman: The Movie crystal banner. I just knew that something special — an event — was about to happen, and boy, oh boy, did it happen! Once the B&W vintage theater curtains parted, the first blue streaking credits flew by, the crimson red and golden yellow Superman shield exploded, and John Williams' rousing music ignited before us, the rest of the world disappeared for 143 minutes. My recurring childhood flying dreams were realized. Filled with elation as we walked through the snow in the theater's parking lot, Clarke looked up at me and asked if he could change his last name to "Kent"! We eagerly returned to the same theater 13 more times over the course of four months to relive the experience that continues to make a significant and powerful impact on my life.
Burns: I was entertained. It was spectacular. The Smallville scenes — other than seeing the putty on [Jeff East's] nose to make him look like Christopher Reeve — I loved that section. It was fun to see the cameos. I thought Richard Donner was sending a love letter to the character. And the Metropolis section was entertaining with Kidder and Cooper and Gene Hackman, all of that was a lot of fun. I wanted to love it — it was a good enough movie — but I was never as satisfied with the last part of the story as I was with the first two parts. I didn't want to see them turn it into comedy. I wanted my Superman played straight.
Matessino: I loved the movie immediately and what I associate with my overall "reaction" is the beginning of the picture… the opening of a curtain, the black-and-white comic book prologue, and then the incredible impact when the screen widens, the colorful animated credits fly past you and John Williams' theme starts thundering in Dolby Stereo. It was so theatrical and it felt that this is what going to the movies was all about.
Scivally: I wish I could say I was ecstatic, but it's a little more complicated than that. From the time I first heard about the film, I followed its progress through magazines like Starlog and Fantastic Films and little blurbs in the entertainment columns of newspapers. There were rumors that the producers were pulling out all the stops and had developed a new kind of 3-D system that would make it seem like Superman was flying right out of the screen. By the time I got to the theater — and I went with a group of my high school friends — I was so filled with the hype that there was no way ANY movie could live up to it, so it was a bit of a disappointment. I also wasn't bowled over by Gene Hackman as Lex Luthor, or the overall campy tone of the modern-day Metropolis scenes. Having gotten over that initial letdown, however, the film really grew on me in subsequent viewings, and now when I watch it I feel it's just about perfect. One of the things that experience taught me, however, is to avoid, as much as possible, all hype for a movie until I've seen it.
Tye: No, just that I loved it/him.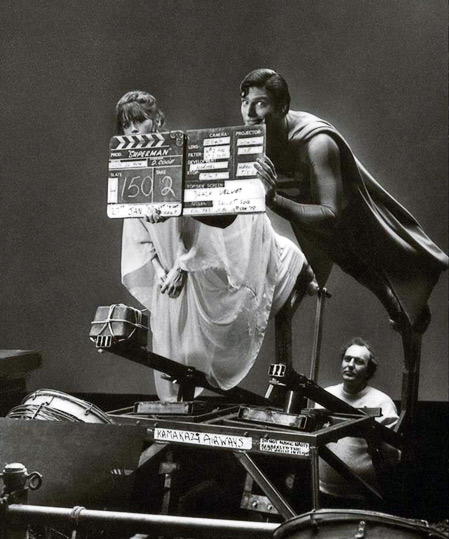 Coate: Were you a fan of the Superman character prior to seeing the 1978 movie?
Bowers: I was a regular viewer of the George Reeves television series, The Adventures of Superman, from about five years old throughout my pre-teen years. Comic books were never very accessible or of much interest. I was all about the live-action telling of Superman, Batman, Tarzan, Captain Marvel, Ultraman, and other fantastic heroes. Superman: The Movie is the primary reason I love the character and filmmaking in general.
Matessino: I wasn't a comic book reader as a kid, but the George Reeves TV series was re-run in syndication constantly and the character also appeared on Saturday morning cartoons at the time, and I was a faithful watcher of both.
Scivally: Some of my earliest memories are of watching George Reeves in reruns of The Adventures of Superman. From as far back as I can remember, I was captivated by Superman. I think the character has enormous appeal for children, because when you are small and powerless, the ultimate fantasy is to be bigger and stronger, if not smarter, than everyone else. Throw in flying and bullets bouncing off your chest, and that's just way cool.
Tye: Yes, I was fan from the days of George Reeves' TV Adventures of Superman. He may not have been much of an actor, but he made kids like me believe.
Coate: How is Superman significant within the comic book/superhero genre?
Bowers: Superman: The Movie is the "grand daddy" of today's superhero epics, a benchmark from which many directors and filmmakers, such as Patty Jenkins, director of Wonder Woman, continue to find inspiration and guidance. The first movie will forever resonate with moviegoers as the ultimate expression of hope, optimism, humility, selflessness, and a strong moral compass within the genre. Richard Donner's careful direction, Geoffrey Unsworth's dreamy cinematography, John Williams' magical score, a multitude of ground-breaking visual and physical effects, exquisite writing, and superb acting all morphed into what is now considered a masterpiece of classic filmmaking. Richard Donner made Verisimilitude the watchword of the production: the mandate to make Superman: The Movie realistic and believable, with total respect and love for the material.
Matessino: Obviously Superman: The Movie is the template for every comic book superhero movie that followed. Prior to that, what immediately came to people's minds was the 1960s Batman TV series. The 1978 film walked a fine line, incorporating just enough campy humor but treating the character seriously and depicting the world as a real one.
Scivally: Superman took a comic book subject and treated it with respect. After the campy 1960s Batman, that was a big deal. But, as creative consultant Tom Mankiewicz once said to me, the safe and easy way to do a superhero movie is to stand outside of it and make fun of it. What is more difficult — and more interesting — is to get inside the material and treat it with respect. While he was rewriting Superman for Richard Donner, the watchword was "verisimilitude" — they had to make it seem like it could actually happen. This was later reflected in the ad-line for the movie: "You'll believe a man can fly."
Tye: It was on his muscle-bound back that the genre was constructed. No need to say more.
Coate: Can you compare and contrast Christopher Reeve's performance with that of other actors who have portrayed the character of Superman? Was Christopher Reeve the best Superman?
Bowers: George Reeves is my fatherly Superman, and Christopher Reeve is my brotherly Superman. Both actors had "it," that special ingredient necessary to breathe life into the characters of Superman and Clark Kent come in a distinct and believable ways. Noel Neill told me on more than one occasion that Chris reminded her of George because they were both consummate gentlemen who loved the craft of acting first and foremost over their desire to become "movie stars." Since Christopher Reeve was only nine years my senior, I could more easily identify with him as someone to aspire to and become in my own "humanly" way. His humility, vulnerabilities, strengths, and selflessness brought peace and clarity to my teenage and 20-something years, and later in real life after his 1995 accident. I was completely captivated by Christopher Reeve in 1978 because he possessed such genuine energy… so authentic and honest. He really did feel like a true "friend." Was Chris Reeve the best Superman? Sure was. Sure is!
Burns: Reeve was the best.
Matessino: I think all of the actors who've portrayed Superman over the years were well chosen in the sense that each had an instinct about what the character meant for the time in which each played the role. Christopher Reeve was the first one to plausibly deal with the conceit of why no one could recognize that Clark Kent was Superman with glasses on. He played Clark exactly like what he would really be… a farm boy totally overwhelmed by the big city. It didn't feel like something he was doing just to conceal his identity. It therefore felt relatable. It tapped into that sense we all have that there is an ideal, confident, balanced person inside each of us.
Scivally: Looking at the actors who have portrayed Superman on film and TV, Kirk Alyn was pretty much a stock serial hero, without a lot of shadings to his portrayal – but then the serials never had characters who were more than one or two-dimensional. George Reeves gave two performances as Superman. In the first couple of seasons, his Superman is a tough crime-fighter. In the later seasons — the ones made after Dr. Frederick Wertham's notorious attack on comic books — he's a much jollier, affable Superman. His portrayal of Clark Kent softened as well, though there was never much differentiation between his Kent and his Superman; his early Kent was a tough, no-nonsense reporter who would have been at home in a Humphrey Bogart crime thriller. Looking back at the shows now, George Reeves' Superman is like a surrogate parent, with Lois and Jimmy his children that he has to keep in check and keep rescuing from trouble. It was a pretty innocent portrayal for a much more innocent time. There wouldn't be another major live-action portrayal (outside of TV commercials) until Christopher Reeve twenty years later. By that time, the country had experienced the Vietnam War and Watergate, so the wide-eyed innocent approach wouldn't have resonated with a much more cynical, jaded era. Consequently, Christopher Reeve — under Donner's direction — gave more shadings to Clark Kent and Superman. For the first time, audiences could see a hint of sadness and loneliness in the character, and Reeve made a much greater effort to play Kent and Superman as different individuals, which helps sell the illusion that Lois Lane wouldn't be able to see past the whole eyeglasses-as-disguise bit. While his Superman is a confident charmer, his Clark Kent is a shy, bumbling Jimmy Stewart type. Or, as Reeve put it, his Kent is a put-on, a reflection of the way the alien Kal-El (Superman) sees us.
Tye: Hands-down the best, in part because he let us see the differences between Clark and Superman. The only other Superman to do that was Bud Collyer on the radio.
Coate: Between the original theatrical release, television broadcasts and the numerous home-video releases of Superman, which cut/version do you believe is the best?
Bowers: Superman editor Stuart Baird is one of my greatest filmmaking heroes. Assembling the ultimate theatrical cut of the first movie, with over two million feet of film at his fingertips, was likely first viewed as an unsurmountable task. What I experienced in the theater will remain my favorite cut — beautifully paced and balanced, retaining many of Richard Donner's continuous and perfectly choreographed takes (such as Clark asking Lois out to dinner as they walk through the Daily Planet offices, followed by Lois going into the ladies room and Clark pressing the down button at the elevator), and showcasing the best of the best from the lead actors and supporting cast, specials effects wizards, and seasoned crew. I see the 188-minute extended release — first shown on ABC-TV in 1982 — as a bonus gift after a birthday celebration; a marvelous surprise and curious insight into the level of energy and talent poured into the long and challenging production.
Matessino: I think that the original theatrical release — with its original sound mix only — is nearly perfect. The extended TV cut is interesting because we get to see what else was shot and it serves its own purpose, but I think all the right editorial decisions were made in creating the theatrical cut. The one piece of added footage I wish they'd kept is the one that shows Superman's attempt to catch the eastbound missile head on, only to establish that its avoidance system prevents him from doing so. The movie establishes that Metropolis is basically New York with a name change, and therefore the geography is unclear when Superman leaves Metropolis and ends up behind the eastbound missile. They may have cut that material because the visual effect was unsatisfactory, but it also unfortunately necessitated the abrupt cutting of the music score there.
Scivally: I'm always a fan of sticking to the original presentation, so I prefer the original theatrical cut. The same goes for Superman II — despite the much-heralded Donner Cut, I still feel the original Donner/Lester hybrid is superior.
Tye: The [TV] cut is great but I like the one that I saw in the theaters.
Coate: Superman was made in a mixture of styles and tone, particularly with respect to the direction, acting and cinematography. Is this an asset or detriment to the overall effectiveness of the movie?
Bowers: There's something for everyone in Superman: The Movie. I view the mixture of styles and tone as an absolute asset to the movie's appeal. I've always viewed this movie as a trilogy — three distinct chapters that tell a complete origin story, from Kal-El's journey from a strange and magical planet, to his arrival to Earth in an Andrew Wyeth-esque environment that firmly establishes his "human" roots, to his reveal to the world to fight for Truth, Justice, and the American Way...and discovery of the love of his life. Today I can't imagine the movie not having these three "flavors". It works, it just does.
Matessino: It works for me because that's the character's experience. We're introduced to his place of origin, a truly alien world and then his life experience, which is rural Americana and then the world's biggest, most bustling city. This is contrasted by the villain Lex Luthor, who is arrogant and feels in control of that world. The changes in tone and photographic approach reflect this. Life changes its look and its tone, after all. It made the movie feel more real and relatable.
Scivally: Despite the reservations I had on first seeing it, I can now appreciate the way the movie switches tones from the Krypton scenes to the Smallville scenes to the Metropolis scenes. If they had kept up the solemnity of the Krypton scenes throughout, the movie might have ended up being overly dark, as I feel today's modern superhero movies are. And especially with Superman, who is a character who represents light and goodness and the best qualities we have inside us, audiences should be able to have some fun in the theater. Batman — that's a different story.
Coate: What did Donner's Superman do well that previous incarnations, sequels, imitations and reboots have not?
Bowers: Superman: The Movie delivers in spades the best of what the cinema is meant to offer moviegoers: pure magic, heart, optimism, wonder, adventure, love, loss, yearning, escapism, and bright colors. We get to fly with Superman! The Daily Planet newspaper headline "CAPED WONDER STUNS CITY" reflected how the public, both inside the movie and inside the movie theater, felt about this "friend from another star"… stunned. We totally believed that this "guy that flies… with bright red boots" was the real deal who recognized his calling and wished to make the planet a safer place.
Burns: Entertain and satisfy. Even with the goofiness of the Metropolis section. Even with the contrivance of turning back time, it was bold. And Christopher Reeve… you can't disassociate the film from that performance.
Matessino: For me, what Donner's film did is reach beyond non-comic book readers to all potential viewers, young and old, and to everyone who enjoyed going to the movies. It didn't require you to have any experience with the character prior to that. The other thing it did, rather boldly, was set it in the real world of the late 1970s. It was not really stylized in any way. What they shot on the streets of New York felt like the exact same city as Taxi Driver. The movie's famous tagline was "You'll believe a man can fly" and it delivered that not only through its groundbreaking effects but by placing Superman in a world that was familiar and that felt very real. Some of the latter day entries in the genre do this in their own way, but for me nothing comes close to the sense of realism that the first Superman achieved. Think about how hard it is to pull off a character in a costume like that and have an audience accept it. You can either make the world completely fantastic and stylized so that he doesn't stand out… or you can do the tough work of figuring out how to get the script, the cast, the look and the tone exactly right so that this character can speak to a pimp before he stops a falling helicopter, and then crowds in the street applaud the arrival of a true hero.
Scivally: As I said earlier, Donner's Superman was the first superhero movie to be made like a serious Hollywood epic. Prior to the late 1970s, if you set out to make a superhero film, it would be considered a "B" movie — at best — and be done with a small budget, like Warner Bros.' previous Doc Savage film. Superman was a game changer. After Superman, studios realized that if they took these films seriously, so would audiences, and the box-office rewards could be astronomical. As a result, by the 1990s, there had been a flip-flop in film budgeting. Movies that — in the early 70s — would have been considered "B" films were now "A" films with "A" budgets, and films that would have been considered "A" movies were now being done as "B" films with smaller budgets, if at all. In terms of other Superman films, what Donner — and Tom Mankiewicz — got right is that Superman is, at heart, an innocent with super powers. Superman Returns and Man of Steel, in my estimation, were misfires, trying too hard to give a dark inner turmoil to the character. He ain't Batman, but since The Dark Knight was, for a while, the second highest-grossing film in history, moviemakers keep trying to turn him into a conflicted Batman-type character.
Tye: He made us believe not just that a man could fly, which was the marketing promise, but that Superman still soared.
Coate: Where does Superman rank among director Richard Donner's body of work?
Bowers: Superman: The Movie is most certainly Richard Donner's greatest cinematic achievement. It was his "baby," a project he embraced because of his belief of, and devotion and love for, Jerry Siegel and Joe Shuster's character. The opportunity must have nearly knocked Richard off his toilet seat when Alexander Salkind offered him the job in 1976! This movie is still a very emotional topic for him today.
Matessino: Donner would be lauded for the film even if he had not directed any others. But certainly it's one of several for which he will be remembered along with The Omen, The Goonies and Lethal Weapon. He was obviously the perfect director for Superman and I think its success played a role in the longevity of the character.
Scivally: When I think of Richard Donner, three films immediately come to mind: The Omen, Superman and Lethal Weapon. For me, Superman is his best film.
Tye: It is, I think, his best. I was with him last year in Los Angeles, in a program I moderated, and I can't imagine that he would disagree. He loved Superman from boyhood, and gave us a hero worthy of the one he worshipped.
Coate: What is the legacy of Superman: The Movie?
Bowers: Superman: The Movie is a monumental achievement in cinema thanks to its filmmakers, producer Ilya Salkind — who envisioned Superman on the silver screen — and actors who gave it its heart and soul, who made it succeed, and made everyone Believe A Man Could Fly. Richard Donner wrote in a memo to the cast and crew in early 1978, "I love you all, everything is going Super. The Magic is still ours. Let's keep it that way." Superman: The Movie radiated magic in 1978 and continues to captivate the world 40 years later. This December, surely multitudes of fans will be watching Superman: The Movie — via streaming, DVD, Blu-ray or the new 4K UHD — with the same hope, optimism, and innocence they felt the first time they watched in awe as Christopher Reeve soared out of the Fortress of Solitude and into the world.
I would like to thank you, Michael, for including me in his special anniversary article, and Brian McKernan and Bill Williams for writing assistance and inspiration for many years. I Will Always Believe A Man Can Fly.
Burns: I don't know if you'd have the Tim Burton Batman or Chris Nolan Batman or Iron Man or this incredible legacy of film franchises if Superman had not been successful. It was the first.
Matessino: Superman is the ultimate immigrant story. When Superman flies over the Earth at the end of the picture, with that grand score playing, it's the character now claiming this place as his home. He has become fully part of a place that was originally foreign to him and has figured out his place in it. Of course it has overtones of the stories of Moses and Jesus and so it is overflowing with mythic resonance. All of that comes out in the 1978 film without it feeling heavy handed. It came out at the perfect time because prior to that things were campier and in later decades we moved toward making things darker and more complex. In the 1970s movies felt very real and yet it was acceptable at the time to put the tongue into the cheek here and there and have a little fun with it. But underneath it all is a basic story that we can all relate to that has to do with wondering about our origins, looking at our formative experiences, and figuring out a way to let the selfless, heroic part of ourselves express itself in our lives. If you had to pick one incarnation of Superman where all of this is codified definitively, it's Superman: The Movie.
Scivally: As a character, Superman is a symbol of what is best about human character; he really does represent truth and justice, and at one time — when the phrase had only positive connotations — the American Way. Superman — the movie — was a major game-changer in Hollywood. And I do believe Ilya Salkind, its producer, should get credit for seeing that a comic book character, treated with respect, can connect with a mass audience. Had he not had that vision and pursued it, we wouldn't have any of the superhero movies we have today; they'd still be "TV material."
Coate: Thank you — Jim, Kevin, Mike, Bruce, and Larry — for sharing your thoughts about Superman: The Movie on the occasion of its 40th anniversary.
--END--
IMAGES
Selected images copyright/courtesy Jim Bowers, Dovemead Limited, Film Export A.G., International Film Production, Warner Bros. Pictures, Warner Home Video. Home-video collage by Cliff Stephenson.
SOURCES/REFERENCES
The primary references for this project were regional newspaper coverage and trade reports published in Billboard, Boxoffice, The Hollywood Reporter and Variety. All figures and data included in this article pertain to the United States and Canada except where stated otherwise.
SPECIAL THANKS
Jim Bowers, Kevin Burns, John Hazelton, Bill Kretzel, Mike Matessino, Bruce Scivally, Cliff Stephenson, Larry Tye, Sean Weitzel, and a very special thank-you to all of the librarians who helped with the research for this project.
IN MEMORIAM
Geoffrey Unsworth (Director of Photography), 1914-1978
Les Bowie (Creative Supervisor of Mattes & Composites), 1913-1979
John Barry (Production Designer), 1935-1979
John Stuart ("10th Elder"), 1998-1979
Denys Coop (Creative Director of Process Photography), 1920-1981
Antony Scott ("5th Reporter"), 1933-1983
Robert Henderson ("2nd Editor"), 1904-1985
Michael Gover ("6th Elder"), 1913-1987
Trevor Howard ("1st Elder"), 1913-1988
Harry Andrews ("2nd Elder"), 1911-1989
Norman Warwick ("Superchief Driver"), 1924-1989
Gordon K. McCallum (Re-Recording Mixer), 1919-1989
Roy Charman (Sound Mixer), 1930-1990
Lee Quigley ("Baby Kal-El"), 1976-1991
Joe Shuster (Superman Co-Creator), 1914-1992
Bob Peak (Promotional Material Illustrator), 1927-1992
Derek Meddings (Model Effects Director & Creator), 1931-1995
Jerry Siegel (Superman Co-Creator), 1914-1996
Alexander Salkind (Presenter), 1921-1997
Mario Puzo (Story), 1920-1999
Billy J. Mitchell ("1st Editor"), 1942-1999
Rex Everhardt ("Desk Sergeant"), 1920-2000
David Neal ("7th Elder"), 1932-2000
Roy Field (Creative Supervisor of Optical Visual Effects), 1932-2002
David Newman (Screenwriter), 1937-2003
Alan Tilvern ("2nd Controller"), 1918-2003
Robert MacLeod ("General"), 1915-2004
Marlon Brando ("Jor-El"), 1924-2004
Christopher Reeve ("Superman"/"Clark Kent"), 1952-2004
Maria Schell (Vond-Ah), 1926-2005
John Hollis ("4th Elder"), 1927-2005
George Harris II ("Officer Mooney"), 1921-2005
Phil Brown ("State Senator"), 1916-2006
Roy Stevens ("Warden"), 19??-2006
Glenn Ford ("Pa Kent"), 1916-2006
Tom Mankiewicz (Creative Consultant), 1942-2010
Susannah York ("Lara"), 1939-2011
Jackie Cooper ("Perry White"), 1922-2011
Phyllis Thaxter ("Ma Kent"), 1919-2012
Larry Hagman ("Major"), 1931-2012
Stuart Freeborn (Creative Supervisor of Makeup & Special Visuals), 1914-2013
Vas Anderson ("3rd Elder"), 1933-2015
Margot Kidder ("Lois Lane"), 1948-2018
Yvonne Blake (Costume Designer), 1940-2018
-Michael Coate
Michael Coate can be reached via e-mail through this link. (You can also follow Michael on social media at these links: Twitter and Facebook)