"[Batman Returns is] the first auteur superhero movie. I think the execs at Warners realized that you just let Tim Burton alone and let him make a Tim Burton movie and people will see it in droves." — Danse Macabre: 25 Years of Danny Elfman and Tim Burton author Jeff Bond
The Digital Bits and History, Legacy & Showmanship are pleased to present this retrospective commemorating the silver anniversary of the release of Batman Returns, Tim Burton's follow-up to the immensely popular 1989 Dark Knight adventure, starring Michael Keaton, Danny DeVito and Michelle Pfeiffer. [Read on here...]
Batman Returns, one of the most anticipated sequels ever made, opened in theaters twenty-five years ago this week.
For the occasion The Bits features a compilation of statistics, trivia and box-office data that places the movie's performance in context; passages from vintage film reviews; a reference/historical listing of the film's digital sound presentations; and, finally, an interview segment with a trio of comicbook/superhero movie authorities and film historians.
BATMAN RETURNS NUMBER$
1 = Rank among top-earning movies during opening weekend
1 = Rank among top-earning movies of 1992 (calendar year)
1 = Rank among top-earning movies of 1992 (summer)
1 = Rank among top-earning films of Warner Bros.' 1992 slate
2 = Number of Academy Award nominations
3 = Number of weeks nation's top-grossing movie (weeks 1-3)
3 = Box-office rank among movies directed by Tim Burton (adjusted for inflation)
3 = Rank among top-earning movies of 1992 (legacy)
4 = Number of months between theatrical release and home-video release
5 = Box-office rank among movies in the Batman franchise (adjusted for inflation)
6 = Rank among top-earning movies of 1992 (worldwide; legacy)
11 = Number of days to gross $100 million
11 = Number of digital sound presentations
26 = Rank on all-time list of top box-office earners at close of original release
2,644 = Number of opening-week engagements
$24.98 = Suggested retail price of initial home video release (VHS)
$39.98 = Suggested retail price of initial home video release (LaserDisc)
$17,279 = Opening-weekend per-screen average
$45.7 million = Opening-weekend box-office gross*
$47.7 million = Opening-weekend box-office gross* (3-day weekend + 6/18 sneaks)
$80.0 million = Production cost
$83.2 million = Opening-weekend box-office gross (adjusted for inflation)
$100.1 million = Box-office rental (domestic)
$104.0 million = Box-office gross (international)
$139.4 million = Production cost (adjusted for inflation)
$162.8 million = Box-office gross (domestic)
$174.5 million = Box-office rental (domestic, adjusted for inflation)
$181.2 million = Box-office gross (international, adjusted for inflation)
$266.8 million = Box-office gross (worldwide)
$283.8 million = Box-office gross (domestic, adjusted for inflation)
$465.1 million = Box-office gross (worldwide, adjusted for inflation)
*established new industry record
A SAMPLING OF MOVIE REVIEWER QUOTES
"This Batman soars! A funny, gorgeous improvement on the original." — Richard Corliss, Time
"It is a common theory that when you have a hero, like James Bond, Superman or Batman, in a continuing series, it's the villain that gives each movie its flavor. Batman had the Joker, played Jack Nicholson, to lend it energy, but the Penguin is a curiously meager and depressing creature; I pitied him, but did not fear him or find him funny. The genius of Danny DeVito is all but swallowed up in the paraphernalia of the role. Batman Returns is odd and sad, but not exhilarating." — Roger Ebert, Chicago Sun-Times
"Batman Returns has wonderful, scary music (by Elfman, no Prince this time) and a wonderful, scary look — courtesy of cinematographer Stefan Czapsky (Vampire's Kiss, Edward Scissorhands) and production designer Bo Welch, carrying on in the style of the late Anton Furst, who designed the first Batman). The performances are generally good, not just Keaton's but also that of Michelle Pfeiffer, who is shockingly feline in her skin-tight black-leather suit (with whip accessory) and who manages to find a measure of plausibility in the bizarre Catwoman." — Jay Boyar, Orlando Sentinel
"No matter how Batman Returns performs at the box office, I doubt that Burton will make a third installment. He seems to have thrown all his ideas into this one, including touches from his other movies: the sympathetic, handicapped monster from Edward Scissorhands, the comic demons from Beetlejuice and the freak show comedy from Pee-Wee's Big Adventure." — Bob Fenster, (Phoenix) Arizona Republic
"For Hollywood, summer is increasingly the season of the big-budget gamble. Batman Returns may be the surest box office bet of the year, but when you get past the saturation merchandising to the movie itself, it's hard not to notice there's no Joker in the deck this time." — Desmond Ryan, Philadelphia Inquirer
"Burton loses a few points for including egotistical references to his other films, ranging from ice sculptures that are dead ringers for the surrealistic hedges in Edward Scissorhands to dialogue borrowed from Pee-wee's Big Adventure. When Michelle Pfeiffer says, 'That's my name, don't wear it out,' it's too much." — Jeff Strickler, (Minneapolis) Star Tribune
"Faster and funnier than the first. Explosively entertaining." — Peter Travers, Rolling Stone
"A visual marvel." — David Ansen, Newsweek
"Darker, louder and more confusing than a cheap carnival fun house, Batman Returns is an assault on the eyes and ears, not to mention the intelligence." — Joe Pollack, St. Louis Post-Dispatch
"On all counts, Batman Returns is a monster. Follow-up to the sixth-highest-grossing film of all time has the same dark allure that drew audiences in three years ago. But many non-fans of the initial outing will find this sequel superior in several respects, meaning that Tim Burton's latest exercise in fabulist dementia should receive even stronger across-the-board acceptance than the original. Warner Bros.' reported $80 million-plus investment will be an afterthought in the wake of the [box office] cascade, which should approach the $250 million neighborhood of the first pic domestically." — Variety
"Batman Returns, the most eagerly awaited and aggressively hyped film of the summer, is, for better or worse, very much the product of director Tim Burton's morose imagination. His dark, melancholy vision is undeniably something to see, but it is a claustrophobic conception, not an expansive one, oppressive rather than exhilarating, and it strangles almost all the enjoyment out of this movie without half trying. The result is a cheerless, brooding but always visually inventive film, more or less what you might expect if Ingmar Bergman had directed The Addams Family." — Kenneth Turan, Los Angeles Times
"This time the richness of the Batman movie is not in its production design — indeed, designer Bo Welch is a toy shop window decorator compared with the late, great Anton Furst — but rather in Burton's and screenwriter Daniel Waters' Freudian view of adult human behavior. If all this makes Batman Returns seem overly serious, well, that's an overstatement. But it should be a pleasure for non-adolescents to encounter a comic-book action picture in which the characters are more important than their gadgets." — Gene Siskel, Chicago Tribune
"Tim Burton has wisely switched gears, reinventing the mood and manner of Batman so fearlessly that he steps out of his own film's murky shadow. Mr. Burton's new Batman Returns is as sprightly as its predecessor was sluggish, and it succeeds in banishing much of the dourness and tedium that made the first film such an ordeal. Indeed, allowing for a ceiling on viewers' interest as to just what can transpire between cartoon characters like Batman and the Penguin, Batman Returns is often an unexpectedly droll creation. It stands as evidence that movie properties, like this story's enchantingly mixed-up Catwoman, really can have multiple lives." — Janet Maslin, The New York Times
"Now comes the sequel with a trio of masked schizophrenics who each seem to be in a separate movie when they're not at each other's throats. It's a film more cartoonish and less apocalyptic than the original, revving with spectacle, energy and chaos, but rarely very funny, startling or provocative. At best, Batman Returns manages to be fitfully offbeat and quirky but only in ways we've seen before in Tim Burton movies." — Judy Gerstel, Detroit Free Press
"Hampered by weak pacing, nonexistent story structure and routine action sequences, Burton and screenwriter Daniel Waters have emphasized a surprising degree of dark, kinky humor that nicely counters the film's box-office mayhem. Waters has an annoying tendency towards gutter-minded punchlines (he cowrote The Adventures of Ford Fairlane and Hudson Hawk), but his knack for quirky dialogue yields a few memorable gems that must be heard to be appreciated." — Jeff Shannon, The Seattle Times
"Batman Returns is all icing and no cake. The picture won't disappoint anyone looking for film making on a grand scale. Batman Returns is as big as movies get in 1992 and represents the efforts of hundreds of talented people working in set and costume design, special effects and inventive gadgetry. It also features four big stars and a number of famous faces, all of them turning in good performances. Yet for all the movie's richness and dazzle, for all that money dripping off the screen, Batman Returns is a gorgeous failure — flashy, intermittently appealing but, in the end, a big mess. Batman Returns lacks a coherent story. It lacks a point of view and a focus. And so everything suffers, even the art direction." — Mick LaSalle, San Francisco Chronicle
THE DIGITAL SOUND ENGAGEMENTS
Batman Returns was the first motion picture released in Dolby Stereo Digital* (aka Dolby SR-D, AC-3, Dolby Digital), and the first batch of theaters to install the system and present the movie in the format are identified below.
The theaters screening the Dolby Stereo Digital presentation of Batman Returns were arguably the best in which to experience the movie and the only way at the time to faithfully hear the movie's discrete multichannel audio mix and with incredible sonic clarity. The channel layout for Dolby's digital audio format was: three discrete screen channels + two discrete surround channels + low-frequency enhancement. (The balance of the 2,000+ domestic prints of Batman Returns were a combination of Dolby SR and Dolby A four-channel matrix-encoded, limited bandwidth formats.)
*Prior to the release of Batman Returns in June 1992, there were un-promoted Dolby Stereo Digital test screenings of Star Trek VI: The Undiscovered Country (released December 1991) and Newsies (April 1992).
So, for historical reference, the first-run North American theaters that screened the digital sound version of Batman Returns were….
CALIFORNIA
Lakewood — Pacific's Lakewood Center 4-plex
Los Angeles — Mann's Chinese Triplex [THX]
Los Angeles — Mann's Village [THX]
Newport Beach — Edwards' Newport Triplex
Orange — Syufy's Century Cinedome 11-plex
San Francisco — UA's Coronet
NEW YORK
New York — Loews' Village 7-plex [THX]
New York — UA's Criterion 7-plex
New York — UA's Gemini Twin
TEXAS
Dallas — General Cinema's Northpark West Twin [THX]
WASHINGTON
Bellevue — Act III's Crossroads 8-plex [THX]
THE Q&A
Jeff Bond is the author of Danse Macabre: 25 Years of Danny Elfman and Tim Burton (included in The Danny Elfman & Tim Burton 25th Anniversary Music Box, Warner Bros., 2011). He also wrote The Music of Star Trek (Lone Eagle, 1999) and (with Joe Fordham) Planet of the Apes: The Evolution of the Legendary Franchise (Titan, 2014) and The Art of Star Trek: The Kelvin Timeline (forthcoming from Titan). Jeff is the former editor of Geek magazine, covered film music for The Hollywood Reporter for ten years, and has contributed liner notes to numerous CD soundtrack releases. He also has portrayed Dr. McCoy on the Star Trek New Voyages: Phase II Internet series.
Scott Mendelson is a box office analyst and film critic for Forbes magazine. He has also written for Film Threat, The Huffington Post and Salon.
Bruce Scivally is the author of Billion Dollar Batman: A History of the Caped Crusader on Film, Radio and Television from 10¢ Comic Book to Global Icon (Henry Gray, 2011). His other books include Dracula FAQ: All That's Left to Know About the Count from Transylvania (Backbeat, 2015), Superman on Film, Television, Radio & Broadway (McFarland, 2006) and (with John Cork) James Bond: The Legacy (Abrams, 2002). As well, he has written and produced numerous documentaries and featurettes that have appeared as supplemental material on LaserDisc, DVD and Blu-ray Disc, including several of the Charlie Chan, James Bond, and Pink Panther releases. He is Vice President of New Dimension Media in Chicago, Illinois.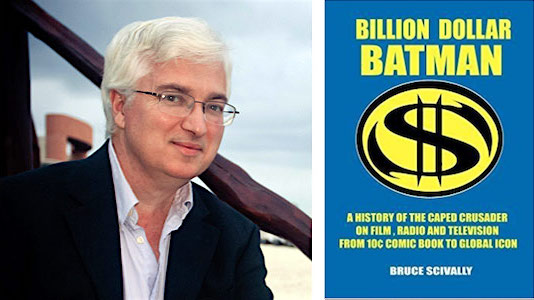 The interviews were conducted separately and have been edited into a "roundtable" conversation format.
Michael Coate (The Digital Bits): In what way should Batman Returns be remembered on its 25th anniversary?
Jeff Bond: Both Burton's Batman films are pivotal both to lay the foundations for the serious, psychologically complex superhero movies we see today, and as the illustration of Tim Burton as an utterly unique artist who was given the reigns to Warner Bros.' and DC's priceless comic book superheroes. He was allowed to take these iconic characters, who for years had been marketed as toys and coloring books and comic books generating millions and millions of dollars, and potentially risk destroying all of that as a revenue stream and cultural artifact by reinterpreting them through his totally idiosyncratic vision — and it worked.
Scott Mendelson: It remains something of a pop-culture anomaly. It was a financially successful summer release nonetheless remembered for its poor audience reception and lightning-fast box office downfall. The film was the first modern quick-kill blockbuster, in that it was so anticipated and opened so well (a record $47 million opening weekend) that it ended up making a ton of money even though most folks didn't care much for it…. It some ways, it is the best live-action Batman movie, offering insanely original imagery and deeply weird characters amid a Grimm fairy tale reimagining of the Batman mythos that nonetheless is relatively faithful to the late-1980s/early-1990s comic book era. It is a fine example of going against the source material in the service of a better movie, or at least in the service of the specific character drama that a filmmaker is trying to tell.
Bruce Scivally: In 1989, after a decade of false starts, Batman opened to become one of the hottest movie tickets of the summer. Unlike 1978's Superman, which established the template for big-budget "A" list superhero movies — and was practically the only "A" list superhero franchise for the next decade — Batman showed that there was room in the superhero universe for a darker conception of what a hero could be. But the first film was such a phenomenon that it raised a crucial question — was its success just a fluke, a combination of good timing, savvy marketing and superstar casting (Jack Nicholson, who played the Joker, was at the height of his fame)? Or was it a sustainable franchise, whose success could be repeated? Warner Bros. gambled on the latter, and backed the production of a sequel, under the guidance of the same director (Tim Burton), the same producers (including Michael Uslan, the originator of the project who fought tremendous odds to bring a Batman to the screen that wasn't Day-Glo campy like the 1960s TV series), and the same star (Michael Keaton, whose career shift from manic comedy roles to brooding loner parts was helped greatly by Batman's success). It was a calculated gamble that paid off; Batman Returns, like its predecessor, became a bona-fide box-office blockbuster.
Coate: What did you think of Batman Returns? Can you recall your reaction to the first time you saw it?
Bond: My reaction was complicated — I really loved Burton's original Batman, and I do remember being truly impressed by just what an auteur's vision Batman Returns was. But for my taste it almost went all the way over into self-indulgence, where the action movie roots got swamped by almost a celebration of victimhood and outsiders — basically everyone from Batman to Catwoman to the Penguin is a wounded, brooding social outcast, which is what Burton understood best, and that all got kind of lugubrious for me and sucked the fun out of it. A lot of the action in Batman was driven by the second unit director Peter MacDonald, and I think I missed his touch on the second one. But I appreciate it more today, especially for Walken's and Michelle Pfeiffer's performances.
Mendelson: I loved it when I was 12 and I still love it. It's kind of an art house blockbuster, where if it wasn't based on known characters it probably would have been hailed as an indie arthouse masterpiece of sorts. It's deeply weird, often painful in its character melodrama and absolutely rooted more in character than plot or long-form storytelling. And, sad to say, but Michelle Pfeiffer's Catwoman is every bit as "groundbreaking" a major female character in a mega-blockbuster as she was twenty-five years ago.
Scivally: I had felt that the first Batman film was a triumph of marketing over movie-making (for me, its plot rambles and often makes little sense). Batman Returns was more tightly scripted, but it began the formula of multiple villains in each film. If you count Max Shreck (named for the actor who starred in the 1922 horror film Nosferatu), there were three villains in Batman Returns, as opposed to one in the first film. The more villains you have, the less screen time you have to devote to each one and to their conflicts with Batman. More importantly, the more villains you have, the less time you have to devote to your hero. This contributed to Michael Keaton leaving the series; with Batman Returns, he felt that he was a guest star in his own film series (indeed, in the film's first half hour, Keaton is on screen for only about five minutes). The reason for the glut of villains has more to do with the marketing team than with the creative team; Warner Bros. began to look at the Batman films as elaborate toy ads — the more villains there were in the film, the more different kinds of toys they could sell. At the same time, it firmly established the film series as a kind of counterpart to the TV series, in that both featured high-profile name actors as villains.
Coate: In what way is Batman Returns significant within the superhero/comicbook genre?
Bond: It's the first auteur superhero movie. On Batman, I think Tim Burton was given an unusual freedom of expression, but he was still under the reigns of Warner Bros. and I think there were some important decisions that were not necessarily left to him. I think they brought Peter MacDonald in to make sure they were getting a slam-bang action movie. Then once they had an incredible hit with Batman and Burton made Edward Scissorhands, which was a totally personal film and still a huge hit, I think the execs at Warners realized that you just let Tim Burton alone and let him make a Tim Burton movie and people will see it in droves. So there is so much strangeness in Batman Returns — opening it with the journey of that little floating cradle holding the Penguin, and ending it with an attack on Gotham by an army of rocket-armed live penguins, and all sorts of other stuff — it's an insane movie and probably one of the most insane blockbuster movies ever made.
Mendelson: The overall lesson of Batman Returns, in terms of its reception, was that these big movies, even the ones that were PG-13 and arguably aimed at older kids/adults, were going to be viewed by very young kids. After Batman Returns, we saw a slight neutering of genuinely adult content (sex and violence) in popcorn blockbuster movies of this nature. It led to the PG-13 slowly but surely being turned into a glorified PG, before Lord of the Rings sent everything in the other direction where any number of PG-13 movies are basically R-rated movies edited "just so" for that kid-friendly rating…. But even today, twenty-five years later, you'd never see anything as weird or kinky or outright sexual in a comic book superhero movie as you did with Batman Returns. Even something like Logan is basically a standard western with R-rated violence, and Deadpool is a bawdy action comedy that mostly plays nice with its audience and characters.
Scivally: Like its predecessor, Batman Returns is significant for its tone and the portrayal of its main character. National Periodical Publications/DC Comics had considered ceasing publication of the comic books due to low sales until the TV series premiered and made the character one of the "3 B's" of the 1960s — the Beatles, Bond, and Batman. Although the TV series accurately captured the tone of the comic books of that era, many fans who came of age in the 1970s — when the comic books took a more serious, adult tone and approached the character more seriously — hated the campy depiction of their hero. Michael Uslan made it his mission to bring a vision of Batman to the big screen that would be more in keeping with the 1970s conception, and found it nearly impossible to overcome the deeply ingrained perception of Batman as a "silly" comic book. It helped that by the time Batman was released in 1989, comic books had become "graphic novels" with a readership of young adults rather than young kids, and writer Frank Miller had reinvented Batman with a critically-acclaimed 1986 graphic novel masterpiece, The Dark Knight Returns. After the disappointing box-office returns of two campy Superman movies and a Supergirl film, Batman and Batman Returns began the evolution of superhero movies into darker tales made, like the first two Superman films, primarily for adults, not children.
Coate: In what way is Batman Returns significant as a sequel?
Bond: Again, it was the way Warner Bros. empowered Tim Burton just to make the movie he wanted and not worry about how this was serving the franchise or setting up other movies (in fact there was talk of moving forward with more Keaton/Burton Batman movies but eventually you had Joel Schumacher, who was like the opposite of Tim Burton, take over). It set the precedent for giving these franchise films to up and coming, creative directors to see what kind of energy they'd bring to it — but no one has ever brought the kind of personal vision to a comic book film that Burton did.
Mendelson: Batman Returns sticks out today as a sequel that is both a part of its franchise (it acknowledges the events of Batman) and utterly its own separate thing. It is not remotely concerned with the next sequel nor any kind of world-building beyond the story being told in its 126-minute running time. It was also notable in terms of a sequel being a full-on work of auteurism as opposed to a more "half studio/half filmmaker" original franchise starter. Think Transformers 2, Batman & Robin, The Dark Knight and Spider-Man 2.
Scivally: The initial Superman film showed that a comic book movie could be made like an "A" list film and draw an adult audience; the first Batman film showed that the public would buy a version of Batman that was darker than the Adam West TV version. The second film proved that the success of the first Batman film was repeatable, establishing it as a viable franchise.
Coate: Where do you think Batman Returns ranks among director Tim Burton's body of work?
Bond: It was confirmation that Burton could do blockbusters, make them his way, and have them be huge hits. He's probably the strangest director that Hollywood has ever consistently given millions of dollars to make movies and given him almost absolute freedom to do so, and I think that's wonderful. After years of Tim Burton movies you do get people making fun of their conventions but there is no one else who makes movies like him — he is a genre unto himself and that's nothing to be ashamed of.
Mendelson: I think it's Tim Burton's second best movie behind Ed Wood. It's a deeply personal work inside a comic book superhero sequel and I think its "controversy" broke him for a while. But it just took a while for the kids who grew up on Beetlejuice and Pee-wee to grow up to be adults and the new generation of film critics/media for him to get his due as more than just a great art director.
Scivally: I can't answer this question in good faith, because I have not seen all of Tim Burton's films. I wouldn't rank it among his best works (that honor goes to Edward Scissorhands, Ed Wood and Big Eyes), but it's not among his worst, either. It's middling. It definitely has the unique look of a Burton film, existing in a studio-bound universe all its own (it's an odd world: a mostly black, decrepit Gotham, overrun with giant-sized Fascist statuary, angled rooftops with an abundance of smoke-belching exhaust pipes, and people running about dressed like it's the 1940s instead of the 1990s; production designer Bo Welch conceived it as a city that was "huge, dehumanizing and falling in on itself"), it moves at a good pace and has fine performances, and is more tightly-plotted than the rather sloppy Batman film that preceded it, but for me it's undone by having the Penguin be Shreck's stooge rather than a criminal mastermind in his own right, and Batman not really having much to do.
Coate: How effective or memorable a villain was Danny DeVito's The Penguin?
Bond: To my thinking DeVito's performance, and the way it was guided by Burton, is the biggest miscalculation in the movie, because he is so unpleasant, creepy and scary that his scenes kind of suck the fun out of the movie. Contrast that with Christopher Walken's scenes, which are arguably the most fun parts of the movie. Walken manages to be an unpredictable, effective villain, but he's also hilarious, and this is a movie with attacking penguins, so you'd think it would be a little more fun. But the other side of the coin is that it's part of the journey toward the darker superhero movies of today like The Dark Knight or even Logan. People forget that the only previous comic book movies were the Superman films, which were bright and funny and charming, and no one had seen a blockbuster comic book movie that was dark and gothic before. So maybe you couldn't have Heath Ledger's Joker without Danny DeVito's Penguin.
Mendelson: It's a terrific piece of movie star acting, utterly fearless and yet oddly sympathetic. He relishes creating a three-dimensional baddie that actually acts like an adult (sexual kinks and all).
Scivally: DeVito's Penguin is a truly horrible and disgusting creature, with his white face, beak nose, claw hands, black eyes, sharp grey teeth, and scraggly hair. And in almost every scene there's something drooling over his chin — raw fish, blood, black bile. But he's not the real villain of the piece. That honor goes to Max Shreck, played by Christopher Walken. Max (the second time Walken played a villain named Max in a major franchise, after being Max Zorin in 1985's 007 film A View to a Kill) is a wealthy businessman with political influence whose public beneficence hides sinister intentions. The Penguin, meanwhile, is an attention-starved, lecherous walking id longing to be accepted and praised. The idea that anyone like Shreck, or the Penguin, could ever fool the public enough to attain high political office is absurd. Right?
Coate: How effective or memorable a villain was Michelle Pfeiffer's Catwoman?
Bond: You can make a pretty good argument that Pfeiffer's Catwoman was the best ever done — her introduction is a bravura sequence and her chemistry with Michael Keaton is electrifying and outrageously ups the ante on the old Adam West/Julie Newmar interaction from the 1966 show, which was groundbreaking on its own. The Pfeiffer Catwoman I think was a pivotal piece of proto-feminism in showing her origin as really a reaction to the sexist, condescending treatment of Christopher Walken's character, so she becomes less a villain than an antihero who's out there kicking ass for women all over, and even taking her rage out on another woman who she sees as acting too much the victim during a wave of street crime. Between Burton's staging, the cinematography and her costume design, she might be the first convincing female comic book superhero character in the movies.
Mendelson: I'm not going to say she should have won the Oscar that year, because I'm a big Marisa Tomei fan, but Pfeiffer should darn well have at least been nominated for her richly introspective bit of villainy. It's not only a wonderful melodramatic performance but a sharp bit of ahead-of-its-time satire that pokes brutal fun at the now in-vogue "strong female character" trope.
Scivally: Michelle Pfeiffer was an outstanding Catwoman. Like Penguin, she was — at least while clad in black leather — a walking id, while her Selina Kyle persona developed from being mousy at the beginning to more bold by the end, as her Catwoman-self allowed her to claim and embrace her inner feminine power. She's just as schizophrenic and mentally unbalanced as Bruce Wayne/Batman. And the actress (a last-minute replacement for Annette Bening, who became pregnant prior to the commencement of filming) certainly committed herself to her role — the bird that flies out of her mouth was done for real, not with special effects.
Coate: What is the legacy of Batman Returns?
Bond: Both Burton's Batman films are pivotal both to lay the foundations for the serious, psychologically complex superhero movies we see today, and as the illustration of Tim Burton as an utterly unique artist who was given the reigns to Warner Bros.' and DC's priceless comic book superheroes.
Mendelson: As I wrote back in September: This gorgeous, haunting and unexpectedly moving comic book superhero sequel was an arthouse horror story using the protection of the most famous "branded" material in the world. It somewhat backfired on audiences and critics, who didn't care for gore and sexuality in their kid-targeted superhero story. But the film stands tall today as an uncommonly personal and challenging blockbuster…. Part "faithful" adaptation of the late-80s/early-90s Batman comics, part "Batman as a fairy tale," this deliciously macabre action comedy is still one of the all-time great comic book adaptations. It also operates as a metaphor for the main character, with each of the three villains (Danny De Vito's bitter abandoned orphan, Michelle Pfeiffer's righteously crazed murderous vigilante and Christopher Walken's heartlessly evil corporate tycoon) represented a "what-if" worst case scenario path that our hero could have taken…. And yeah, I loved it in 1992, was befuddled by the reception (I always found Batman to be far more violent) and was saddened when it led to the de-fanging of the PG-13 for a while. But it's still one of the great comic book superhero movies of all time and stands alongside Mission: Impossible and Terminator 2 as one of the big "really for adults" tentpole blockbusters of the mid-1990s.
Scivally: The film is more tightly scripted than its predecessor, with a theme of rejection and acceptance; it begins with the ultimate rejection, as the Cobblepots throw their deformed baby into a river, and continues with Penguin's desire for acceptance leading him to run for Mayor. In addition, there's Selena Kyle, a wallflower who appears to have been rejected by men all her life, culminating with her boss, Max Shreck, pushing her out of a high window (an extreme rejection), and being reborn as the overtly sexual Catwoman. And Batman faces rejection from the citizens of Gotham when the Penguin makes it look as though he's killed the city's Ice Princess and run down its citizens in a Penguin-controlled Batmobile — and ultimately, he's rejected by Selina Kyle/Catwoman. Batman Returns isn't so much a superhero film as it is a dreamlike vision — or nightmare vision — of a city where the sun never shines, and the superheroes and supervillains are deeply psychologically scarred outsiders looking for their place in a society that rejects them, a theme that Burton often revisits in his best films. It is chock-full of the kind of bizarrely outré imagery typical of Burton's imagination, but that imagination tends to bend in a morbid direction, which is what ultimately spelled the end of Burton's reign as Batman director — kids whose parents took them to the film because it was promoted with McDonald's Happy Meals were frightened by its dark themes, so Warner Bros. quietly pushed Burton aside and brought in a director who would be more willing to play ball with the studio and make the films more kid-friendly, leading to the neon, hyper-kinetic Batman films of Joel Schumacher.
Coate: Thank you — Jeff, Scott and Bruce — for sharing your thoughts on Batman Returns on the occasion of the 25th anniversary of its release.
--END--
IMAGES
Selected images copyright/courtesy Warner Bros., Warner Home Video.
SOURCES/REFERENCES
The primary references for this project were regional newspaper coverage and trade reports published in Boxoffice, The Hollywood Reporter, Variety and Widescreen Review. All figures and data included in this article pertain to the United States and Canada except where stated otherwise.
SPECIAL THANKS
Don Beelik, Kathryn Devine, Bobby Henderson, Brad Miller, and to the San Francisco Public Library and Washington State Library.
IN MEMORIAM
Bob Kane (Batman creator), 1915-1998
Stuart Lancaster ("Penguin's Doctor"), 1920-2000
Rick Zumwalt ("Tattooed Strongman"), 1951-2003
Vincent Schiavelli ("Organ Grinder"), 1948-2005
Pat Hingle ("Commissioner Gordon"), 1924-2009
Michael Gough ("Alfred"), 1916-2011
Marion Dougherty (Casting), 1923-2011
Jan Hooks ("Jen"), 1957-2014
-Michael Coate
Michael Coate can be reached via e-mail through this link. (You can also follow Michael on social media at these links: Twitter and Facebook)