The piece also features an interview segment with Cameron associate, Van Ling (who was also featured a couple years ago in our 30th anniversary coverage of the original Terminator).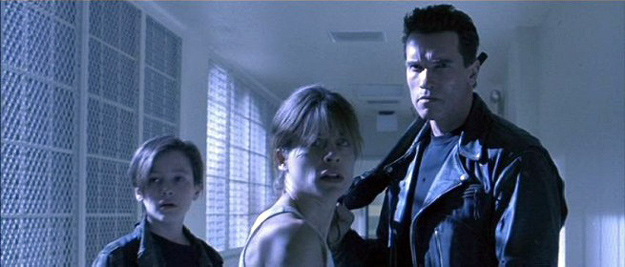 T2 NUMBER$
1 = Rank among top-earning movies during opening weekend
1 = Rank on list of top box-office earners of 1991 (calendar year)
1 = Rank on list of top box-office earners of 1991 (legacy)
1 = Rank on list of top box-office earners of 1991 (among R-rated films)
1 = Rank on list of top box-office earners of 1991 (summer season)
1 = Rank on TriStar's all-time list of top box-office earners at close of original release
4 = Number of Academy Awards
4 = Number of weeks nation's top-grossing movie (weeks 1-4)
5 = Number of months between theatrical release and home-video release
6 = Number of Academy Award nominations
11 = Rank on all-time list of top box-office earners at close of original release (rental)
13 = Rank on all-time list of top box-office earners at close of original release (gross)
16 = Number of days to gross $100 million
18 = Rank among top-earning movies of the 1990s
24 = Number of 70mm prints
25 = Number of years TriStar's top-earning film
108 = Rank on current list of all-time top-grossing movies (domestic, adjusted for inflation)
126 = Number of days to gross $200 million
148 = Rank on current list of all-time top-grossing movies (worldwide)
161 = Rank on current list of all-time top-grossing movies (domestic)
2,274 = Number of opening-week bookings
$99.95 = Suggested retail price of original home video release
$119.95 = Suggested retail price of 1993 Special Edition LaserDisc set
$13,969 = Opening-weekend per-screen average
$9.3 million = Box-office gross (preview screenings + opening day)
$31.8 million = Box-office gross (opening weekend, Days 3-5)
$52.3 million = Box-office gross (preview screenings + first two days + opening weekend)
$102.0 million = Production cost
$112.5 million = Box-office rental
$179.9 million = Production cost (adjusted for inflation)
$198.4 million = Box-office rental (domestic, adjusted for inflation)
$204.8 million = Box-office gross
$315.0 million = Box-office gross (international)
$361.2 million = Box-office gross (domestic, adjusted for inflation)
$519.8 million = Box-office gross (worldwide)
$555.6 million = Box-office gross (international, adjusted for inflation)
$916.8 million = Box-office gross (worldwide, adjusted for inflation)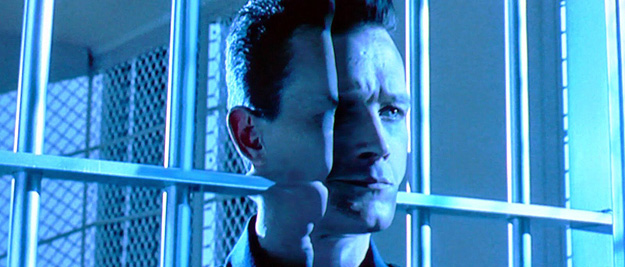 A SAMPLING OF MOVIE REVIEWER QUOTES
"Cameron's achievement isn't only technical. He's using all the not-so-cheap thrills of a violent genre to make a movie with an antiviolence message, and the wonder of T2 is that he pulls it off without looking silly." — David Ansen, Newsweek
"Terminator 2 arrives with a bang, waving a pacifist flag that is the height of hypocrisy in a film that exploits mind-boggling levels of violence and mayhem." — James Verniere, Boston Herald
"If the reported $100 million budget is a study in excess, at least a lot of it ended up on the screen." — Variety
"Brutally beautiful, darkly comic sci-fi, Terminator 2: Judgment Day is guaranteed to destroy the feeble competition and conquer the world this summer. Visceral to the point of overkill, a berserk blizzard of kinetic images, it doesn't even give you time to be scared." — Joe Brown, The Washington Post
"Mr. Cameron has made a swift, exciting special-effects epic that thoroughly justifies its vast expense and greatly improves upon the first film's potent but rudimentary visual style… . This tirelessly violent, ultimately exhausting film has the utter sincerity of all good science fiction, and a lot more flair than most, but it suffers from a certain confusion of purpose. In the end, it amounts to quite the pistol-packing plea for peace." — Janet Maslin, The New York Times
"More elaborate than the original, but just as shrewdly put together, it cleverly combines the most successful elements of its predecessor with a number of new twists to produce one hell of a wild ride, a Twilight of the Gods that takes no prisoners and leaves audiences desperate for mercy." — Kenneth Turan, Los Angeles Times
"Two thumbs up." — Siskel & Ebert
"This is one terrific action picture, thanks to some truly spectacular and mystifying special effects." — Gene Siskel, Chicago Tribune
"Schwarzenegger's genius as a movie star is to find roles that build on, rather than undermine, his physical and vocal characteristics." — Roger Ebert, Chicago Sun-Times
"Four Stars. Brace yourself, the summer movie has arrived. Everything you could want in an action-adventure — incredible special effects, and the awesome and amusing presence of Arnold Schwarzenegger." — Jack Garner, Gannett News Service
"The surprise is that a picture made to be exciting for 136 minutes is so unexciting most of the time. It starts with a bang and keeps banging, so there's little suspense and no crescendo." — Stanley Kauffmann, The New Republic
"No one in the movies today can match Cameron's talent for this kind of hyperbolic, big-screen action." — Hal Hinson, The Washington Post
"Like so many sequels, [T2] lacks the freshness of the first film and gives us no one to root for." — Leonard Maltin, Leonard Maltin's Movie Guide
"It's a joyride until you think about the film's biggest contradiction. How come this movie celebrating the superiority of human feelings over machine precision is most alive when thrilling in the mechanical perfection of the Terminator and T-1000? Inside Terminator 2 beats a human heart. But its soul is that of a killer machine." — Carrie Rickey, Philadelphia Inquirer
"Schwarzenegger is in impeccable deadpan form, milking his tough-guy image for all it's worth and getting laughs out of the Terminator's wooden parroting of slang ('No problemo' probably will be a catch-phrase to reckon with this summer)… . This is a movie that adores its own violence, then shakes its head with regret over it. The right hand knows what the left is doing — and isn't at all bothered by it." — Michael Upchurch, The Seattle Times
"[T2] is a movie that seems to set new marks for violence, explosiveness, state-of-the-art technical effects and budgetary extravagance. It is, at the same time, dazzling and numbing, a movie that stuns you in all senses of the word… . Considerably overlong at two hours and 16 minutes, the film bombards you so unrelentingly that you eventually become indifferent to action that would have popped your eyes out two hours earlier… . But if Terminator 2 is guilty of wretched excess, it is also one of the most remarkable science-fiction adventures, on a technical level at least." — George Anderson, Pittsburgh Post-Gazette
"Puts the formerly appealing burger waitress heroine through an unappealing Jane Fonda workout. Makes chipmunk-cute Hamilton look like a piece of beef jerky left in the sun for six months. Motivation analysis: failed Sigourney Weaver wannabe effort." — Kathy Huffhines, Detroit Free Press
"A humongous, visionary parable that intermittently enthralls and ultimately disappoints." — Richard Corliss, Time
"$100 million worth of special affects [sic] fizzles like a fireworks display after 10 minutes. The thrill of Terminator 2 is gone, and you start to wonder why Ah-nold, dolled up in commando gear like a left-over Rambo, doesn't get it. Guns don't work on this heavy metal. But Arnold keeps shooting. Or you wonder at the high moral road Cameron and writer William Wisher seem to think they took with their tacked on anti-war theme — in the name of which all manner of maiming, death and destruction occurs. Finally, you wonder how $100 million could be this boring." — Catherine Dunphy, Toronto Star
"The film's relentless pummeling grows wearying at 135 minutes. The first Terminator, a half-hour shorter, was leaner and meaner." — Peter Travers, Rolling Stone
"Terminator 2 imagines things you wouldn't even be likely to dream and gets these visions onto the screen with a seamlessness that's mind-boggling." — Mick LaSalle, San Francisco Chronicle
THE SHOWCASE ENGAGEMENTS
The following is a list of the "six-track" showcase presentations of Terminator 2 in the United States and Canada. These were, arguably, the best theaters in which to experience T2 and the only way to faithfully hear the movie's Academy Award-winning sound.
T2 was the seventh of ten movies between 1990 and 1992 released in Cinema Digital Sound, the first 5.1-channel theatrical audio format and the precursor to the modern-day digital audio formats. And of the 200+ new movies released during 1991, T2 was among only ten to have 70mm prints prepared.
Of the 2,000+ prints issued of T2 in North America, the distributor prepared only about a dozen in 35mm with Cinema Digital Sound (CDS) and two dozen in 70mm (six CDS and 18 Dolby-encoded magnetic). The balance of the print run was a mixture of optical 4-channel Dolby SR and Dolby A.
For this release, TriStar employed the services of Lucasfilm's Theater Alignment Program (TAP) to evaluate and approve the theaters selected to book a 70mm print. As well, the movie was booked into as many THX-certified venues as possible.
The noise-reduction and signal-processing format for the T2 70mm magnetic prints was Dolby "A," and the soundtrack was a split-surround/single-surround combo format. The aspect ratio was 2.20:1 and was blown up from Super-35 photography.
A teaser trailer for Hook was sent out with the Terminator 2 prints and which the distributor recommended be screened with the presentation.
The listing includes those special engagements that commenced July 3rd, 1991. The listing does not include any move-overs, subsequent run or international engagements, nor does it include any of the movie's thousands of standard 35mm engagements. (Some engagements included preview screenings on July 2nd.)
So, which North American theaters screened the six-track version of Terminator 2: Judgment Day? Read on….
* 35mm Cinema Digital Sound
** 70mm Cinema Digital Sound
*** 70mm Six-Track Dolby Stereo
ARIZONA
Scottsdale — United Artists' Scottsdale Pavilions 11* <THX>
CALIFORNIA
Emeryville — United Artists' Emery Bay 10* <THX>
La Mesa — Pacific's Grossmont Trolley 8*
Lakewood — Pacific's Regency 8*
Los Angeles (Century City) — AMC's Century 14** <THX>
Los Angeles (Hollywood) — Pacific's Cinerama Dome**
Los Angeles (Westwood) — United Artists' Coronet Triplex** <THX>
Marina del Rey — United Artists' Cinema 6*
Newport Beach — Edwards' Newport Triplex***
Orange — Syufy's Cinedome 8***
Sacramento — Syufy's Century 6***
San Diego — Unite Artists' Horton Plaza 7* <THX>
San Francisco — United Artists' Galaxy 4* <THX>
San Francisco — United Artists' Galaxy 4*** <THX>
San Jose — Syufy's Century 22 Triplex***
San Rafael — Pacific's Regency 6*
Universal City — Cineplex Odeon's Universal City 18*** <THX>
COLORADO
Denver — United Artists' Continental**
DISTRICT OF COLUMBIA
Washington — K-B's Fine Arts***
FLORIDA
South Miami — United Artists' Movies at the Falls 7*
GEORGIA
Atlanta — United Artists' Lenox Square 6*
HAWAII
Honolulu — Consolidated's Waikiki Triplex*** <HPS-4000>
ILLINOIS
Chicago — Cineplex Odeon's McClurg Court Triplex*** <THX>
Skokie — Loews' Old Orchard 4***
MARYLAND
Bethesda — United Artists' Bethesda 10*
MASSACHUSETTS
Boston — Loews' Cheri 4***
NEW JERSEY
Princeton — United Artists' Movies at Market Fair 10*
NEW YORK
New York (Brooklyn) — United Artists' Movies at Sheepshead Bay 9*
New York (Manhattan) — Loews 19th Street East 6***
New York (Manhattan) — Loews' 84th Street 6**
New York (Manhattan) — United Artists' Criterion Center 6***
New York (Manhattan) — United Artists' Gemini Twin**
Woodbury — United Artists' The Syosset***
PENNSYLVANIA
Philadelphia — SamEric's SamEric 4***
TEXAS
Dallas — United Artists' Plaza 8* <THX>
Dallas — United Artists' Plaza 8*** <THX>
Fort Worth — United Artists' Hulen 10* <THX>
VIRGINIA
Merrifield — National Amusements' Arlington Blvd/Lee Highway 14*** <THX>
Reston — National Amusements' Reston Town Center 11***
Anecdotal evidence suggests that some of the CDS prints were replaced during engagement with Dolby prints.
THE INTERVIEW
Van Ling is a freelance visual effects supervisor, producer, writer, editor, consultant, and digital artist. Van is a summa cum laude graduate of the University of Southern California's School of Cinema-Television, and he began his film career as a creative/technical/research/VFX assistant to James Cameron on The Abyss, later serving for several years as the head of production for Cameron's production company, Lightstorm Entertainment. He later formed (with Casey Cannon) the visual effects company Banned from the Ranch Entertainment, where he was involved from 1994 through 1999. Van's diverse and award-winning career has included producing added-value content for DVD and Blu-ray (and even as far back as LaserDisc), including material found on the discs of several James Cameron movies including The Terminator, Terminator 2: Judgment Day, The Abyss, and Titanic, and others such as Field of Dreams. His graphics work can be seen in the Video Essentials calibration disc and in Disney theme park attractions such as Star Tours: The Adventure Continues, the EPCOT Test Track and The Legend of Jack Sparrow. Passengers aboard the Disney Cruise Ships can see his multiscreen animated city panoramas in the Skyline Lounge. His VFX work can be seen in numerous films including The Abyss, Terminator 2, Twister, Starship Troopers, Titanic, and Doctor Dolittle (1998), in trailers for THX and DTS, as well as in DVD & Blu-ray menu design, including those found on the discs for Star Wars, The Hunger Games, Independence Day, and Terminator 2. Attentive viewers might even spot Van as an actor in Terminator 2, AlienNation and Titanic. Van is also an active member of the Visual Effects Branch of the Academy of Motion Picture Arts and Sciences, the Producers Guild of America and the Visual Effects Society. He has served six terms on the VES Board of Directors, and is active on the Archives, Vision and Annual Membership Meeting Committees, co-Chairing the latter. His VES 50 Most Influential VFX Films compilation and annual VFX-film montages have been inspiring artists at VES events around the world.
Van kindly spoke to The Bits about his time working for James Cameron and the popularity and significance of Terminator 2.
Michael Coate (The Digital Bits): In what way is Terminator 2: Judgment Day worthy of celebration on its 25th anniversary?
Van Ling: I feel it was and still is a watershed film in both for its use of visual effects and for its effective storytelling in an action genre not generally noted for having emotion and thrills blended in such a successful way. It's almost universally loved, in the same way that say Ghostbusters and Back to the Future are remembered, with memorable lines and iconic imagery and sequences… and the fact that it's a big-budget sequel to what was essentially a low-budget indie film makes it all the more rare. It's basically The Empire Strikes Back of the Terminator films… it broadened the world and characters, added more emotional depth in continuing the story, and upped the visual stakes. Although one might argue it did Empire one better by actually having an ending, rather than being a middle act of a saga that had to conclude in a subsequent film. There was no narrative need for subsequent films other than financial considerations. That's why, to me, The Terminator and Terminator 2: Judgment Day are canon, and the rest are just fan fiction.
Coate: Can you describe what it was like to see the finished movie for the first time?
Ling: I was very fortunate to have had a front seat on the ground floor of the development and making of the film, thanks to James Cameron. On the day we met in November of 1986, he actually told me the basic premise of the film, and that was the day I count as my first day on the show. But I didn't start working with him officially until a few weeks later, when he hired me as his researcher on The Abyss. And for the next half-decade, I was intimately involved in the making of both that film and T2, but I reckon I would count the first time I really saw T2 was at the first full-audience public screening of the completed film in May of 1991… it was a studio screening at the Cary Grant Theater on the Sony lot, and it was packed with studio personnel, their families, friends and various other general audience members. And it was the most exhilarating and gratifying screening I had ever experienced in my life. People were enjoying the hell out of the film from the get-go, but when the T-1000 got shot in the mall hallway and then healed and got up again, the audience when absolutely crazy, screaming and cheering. I had been working on it with Jim and the team for years by that point, and I knew what a great film it was and how pioneering the VFX work was, but at that moment, I just got to feel what it was like to be an audience member seeing something mind-blowing for the first time.
Coate: Which do you think is better: the theatrical cut or longer director's cut?
Ling: I always have to correct people when they ask this question: calling one version the "director's cut" implies that the other version is somehow NOT the director's approved version, that it is compromised in some way. BOTH versions are the "director's cut," as Jim Cameron had full approval over the two cuts; that's why we specifically called it the "Special Edition." It's just that the Theatrical version was shorter and more tightly-paced to be able to run more screenings a day in theaters, while the Special Edition had more narrative depth and a slightly slower pace. As the producer of the Special Edition version, I can appreciate both cuts for their purposes, but I like the longer cut particularly for the "Resetting the Switch" scene in the middle.
Coate: It's been many, many years since you produced the exhaustive supplemental material for the T2 LaserDisc boxed set. Is there anything else you would like to do special edition-wise should another opportunity arise?
Ling: I once calculated that as of 2015, I have fully-produced or had been involved with something like a dozen releases of the film to home video, and each time I tried to add something new… so I think I may have strip-mined that quarry bare! Although the few things I would have liked to have included over the years but never got a chance due to licensing or clearance issues were: the T2 crew video (it was a private-viewing-only video cut to music that would require expensive clearances); some of the more fabled auditions we had for John Connor and the T-1000 (with Macauley Culkin and Billy Idol, respectively); and the actual film segments from the T2:3D Battle Across Time theme park attraction (which may be possible now that the attraction is gone from the Universal theme parks). And the famed Guns 'N' Roses T2 music video directed by Stan Winston hasn't been on any of the releases since the original Special Edition LaserDisc, because the band's music label understandably wanted a ton of money to re-license it for DVD/home video.
Coate: Where do you think T2 ranks among director James Cameron's body of work?
Ling: This is a really tough question, since nearly everything in Jim's body of work is pretty spectacular! I would say it is certainly in the top four, along with Aliens, The Terminator and Titanic. I'm not sure which order I'd put those in, though.
Coate: What is the legacy of T2?
Ling: T2 was to me a watershed film in the history of visual effects because it was a great blend of old and new techniques that had to work seamlessly together to create a key character that could not have been done without the effects. A lot of people don't realize that there were only about three to four dozen digital shots in the entire film… the rest are all done with traditional VFX techniques like puppets, miniatures, prosthetics, practical explosions and even stop-motion. It built upon the things we did and learned on The Abyss and paved the way for computer graphics to go to the next level on Jurassic Park. One of the things that we did in T2 that I think had the biggest impact on the entire movie industry was the full-on use of digital composites in the film, and not only for ILM's three dozen T-1000 shots. PDI did some seamless digital wire removals, scratch removals and signage flops in which we were able to literally alter the image invisibly in ways that could not have been done without serious generational loss without the use of digital compositing. Some prior films had done digital image manipulation before (we had ONE digital composite in The Abyss), but I believe it was on T2 that it became a truly practical, realistically-affordable tool in the VFX arsenal. So hidden underneath all the cool morphing, the CG liquid metal character animation and the great Stan Winston gags, the real legacy-making revolution that came out of T2 was in my opinion the practical use of digital compositing and digital image manipulation, and those techniques are now the most commonplace VFX work being done in every movie in every genre. And it showed that digital visual effects were a technique that could be used on any type of project — historical, contemporary, romantic comedy, anything — and not just science fiction or action films… . And most importantly, T2 has stood the test of time because it's a hell of a great ride as a movie, which is the ultimate legacy for any film. But maybe I'm a little biased.
Coate: Thank you, Van, for sharing your thoughts about Terminator 2 on the occasion of its 25th anniversary.
--T2--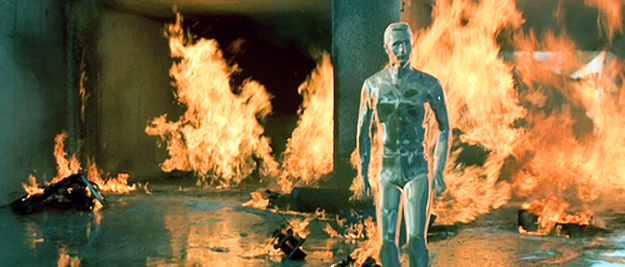 SPECIAL THANKS
Al Alvarez, Don Beelik, Rachel Bernstein, Bobby Henderson, Bill Kretzel, Joanne Lammers, Van Ling, Monty Marin, Brad Miller, Cliff Stephenson, J. Thomas, Kurt Wahlner, Sean Weitzel, and to all of the librarians who helped with the research for this project, and to the Academy of Motion Picture Arts and Sciences' Margaret Herrick Library and Fairbanks Center for Motion Picture Study.
SOURCES/REFERENCES
Primary references for this project were promotional material published in daily newspapers archived digitally and/or on microfilm plus numerous articles published in film industry trade publications Billboard, Boxoffice, The Hollywood Reporter, and Variety.
SELECTED IMAGES
Copyright Artisan Entertainment / Canal+ / Carolco Pictures / Lightstorm Entertainment / Lionsgate Home Entertainment / LIVE Home Video / Pacific Western / Pioneer Entertainment / TriStar Pictures
All figures and data included in this article pertain to the United States and Canada except where stated otherwise.
IN MEMORIAM
Mali Finn (Casting), 1938-2007
Stan Winston (Special Makeup Producer), 1946-2008
Joseph Viskocil (Special Effects Supervisor), 1952-2014
- Michael Coate
Michael Coate can be reached via e-mail through this link.